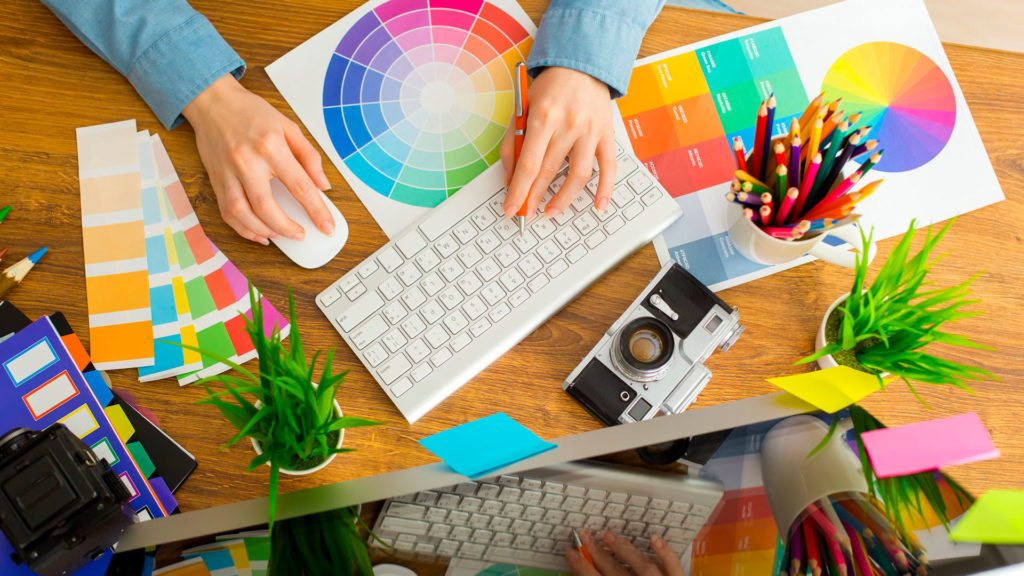 Graphic design, also known as communication design, is the art and practice of planning and projecting ideas and experiences with visual and textual content. The form it takes can be physical or virtual and can include images, words, or graphics. The experience can take place in an instant or over a long period of time. The work can happen at any scale, from the design of a single postage stamp to a national postal signage system. It can be intended for a small number of people, such as a one-off or limited-edition book or exhibition design, or can be seen by millions, as with the interlinked digital and physical content of an international news organization. It can also be for any purpose, whether commercial, educational, cultural, or political.
Design that's to be experienced in an instant is the easiest to recognize. Designers arrange type, form, and image on posters, advertisements, packages, and other printed matter, as well as information visualizations and graphics for newspapers and magazines.

A Logo is a design symbolizing ones organization. ... Logotype is a graphic representation or symbol of a company name, trademark, abbreviation, etc.
More Details

Banner
A web banner or banner ad is a form of advertising on the World Wide Web delivered by an ad server.

Social media is the collective of online communications channels dedicated to community-based input, interaction, content-sharing and collaboration.
More Details

Stand
Custom built stands, modular exhibition stands, pop-up display systems and banner stands. Display Graphics and exhibition design in Oxfordshire.

T- Shirt Design
The best bang for your buck and the most popular t-shirt in the world. Fits well and is perfect for any event, whether it be a giveaway, team, or group event.

Box Design
Boxes that are used for marketing, merchandising, and point-of-sale often have high graphics to help communicate the contents.

Brochure Designing
A brochure is an informative paper document (often also used for advertising) that can be folded into a template, pamphlet or leaflet. .

Business card
Your business card is one of your most important marketing tools. ... Just choose a business card template, customize it with your own